Kids Boys Girls Roller Skates Adjustable Skating Shoes for Beginners
$89.99
Anrbo Exclusive. Not available in stores.

4 Sizes Adjustable – Kids can ride on these skates for a long time for you'll be able to increase the boot up to four sizes. Two sizes available: US Little Kid 11M-12.5M and US Little Kid 13M-2.5M, Check the image of our size chart for the specific length of the boot.

4 Rear Wheels Illuminating – Gain confidence in our stylish design in color. With the coolest light-up wheels, make your little Kid a real shining star. Wheels are designed as a self-generated power system, no battery needed!

High-end Features – Enjoy a smooth, quiet, and confident ride on the reinforced Integral frame, Polyurethane wheels and high-quality ABEC-7 bearings. Premium performance and special light up bonus, totally worth the price!

Triple Closure – Includes Cam lever buckles, strap, and laces. An easy system to get in and out of the skate quickly and nicely, even your kid can do by herself!

High Configuration – We provide high-quality adjustable skates for kids, Comfortable soft inner shoes Removable,PU smooth wheels, ABEC-7 bearings. Be suitable for indoor and outdoor. Available for beginners.
Description
Kids Boys Girls New Upgrade Fashion Outdoor Skating Shoes
Pay attention
Size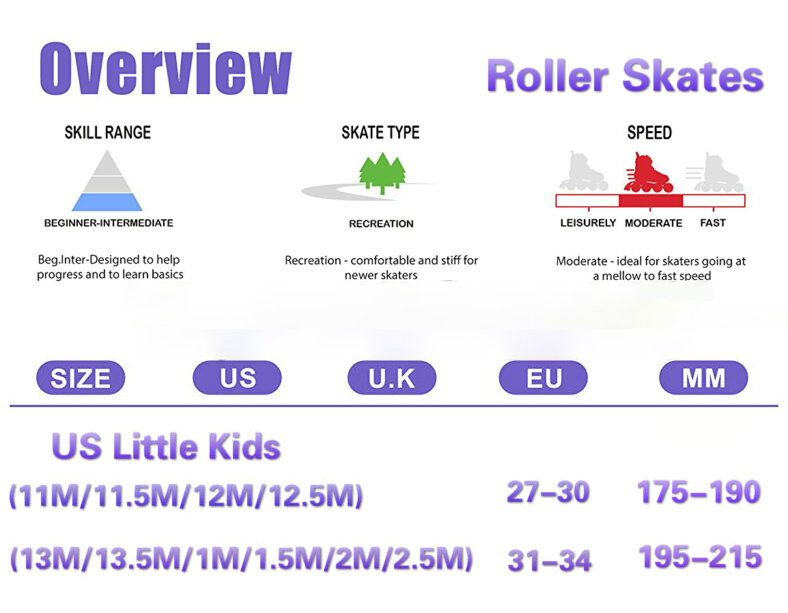 We highly suggest choosing the size according to your kid's foot length, for size may vary among different brands.
Please check the size again with our size chart before ordering.
Specification
Overview and Key Features along with Size Chart are offered in product images.
Instruction
Please read through the instructions on the sides of the box before open, and manual for further reference.
Before Trying
1. Wiggle each wheel to check axle tightness. If bolts/screws that secure the wheels are loose, tighten them with the Allen wrench included in the box.
2. Wear one pair of athletic socks. Skates should fit securely without being too tight or uncomfortable.
Rollerblades Maintenance:
√ Often replace the left and right sides of the wheels, it will make the wheels of inline roller skates more durable.
√ Avoid gliding on rough roads. It will extend the life of wheels and bearings. √ Don't exchange the wheels or bearings individually, for it will slow down the stability of the gliding.
√ If they are not gliding smoothly or making strange noise, to lubricate the bearings with oil or bearing oil. That will extend the life of bearings.
√ If you feel the speed for too fast or too slow, use the wrench (included) to adjust wheels tighten or loosen.
√ When not in use, stored in a dry place without direct sunlight. It plays a big role in preventing rust and product aging.
Additional information
| | |
| --- | --- |
| Weight | 1.59 kg |
| Dimensions | 45 × 20 × 20 cm |
| Color | Pink, Red, Rose Red, Sky Blue |
| Size | EU 27-30 / US 11M-12.5M Little Kid, EU 31-34 / US 13M-2.5M Little Kid |
My daughter liked them a lot.
Perfecto para mi niña que cava de cumplir 7 años le quedo hasta un poco grande y también se puede ajustar para más grande que a medida que vaya creciendo le quedará .! Ahora veré si salen bueno a penas lo recibí
My 5 year old daughter loves these skates. It's her first time using skates so we also bought matching protective gear. Pink are her favorite colors and the wheels light up. Great ankle and foot support, they seem to be sturdy. Have only tried them in the house so far for balance practice. We didn't have to adjust the size for a larger size they fit just right, with lots of room to grow.
Fit perfectly and are adjustable to either smaller or larger.
Secure, with a very nice line and they look super when the lights come on. my daughter is happy. I am in love!
I bought these for my five-year-old granddaughter for her birthday and she has absolutely loves them! They are so cute and they light up and she just zoomed all over the place and has a great time!